Computer Systems and Software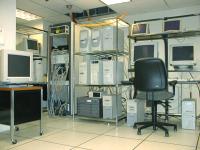 The department maintains a computing infrastructure that is separate from the rest of the University. Department computing systems support all of our administrative, research and educational needs. The technical staff administers these systems and provides support services to the computer science community.
Work safely! Learn about Repetitive Strain Injury and how to prevent or treat this painful condition.
Search the department wiki for tips and tricks that don't appear elsewhere in these pages.
Getting Started
Health and Safety
System Services
Teaching and Research
System Specs
Policies and Legal Issues
Formal CS Dept policies.
Who should sign this agreement? Commercial licensing of Brown software.
Who owns my software? What copyright should/can I use?
Help and Support
Hardware, software or network failures. System requests or bug reports.
Finding answers to technical questions.
How to get help after hours.
Where is the documentation kept?
Network Services
Postgresql database services for internal use only.
Using email. Mailing lists.
Getting access to the anonymous FTP archive.
Automated file synchronization mechanism.
Windows Remote Desktop servers providing linux users to limited Windows apps i.e. MS Office, Acrobat Pro.
How they work and tips/tricks to improve their performance.
Your home page. Setting up a new section of the web. Using CGI commands. Privacy and security.
Connecting to the department from campus and outside Brown.
How to obtain a network connection in the CS Department. Connecting to the local wireless network.