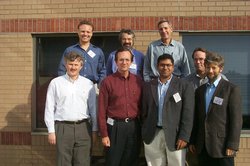 Last Thursday our Industrial Partners Program held its 28th IPP Symposium, organized by Prof. Shriram Krishnamurthi, on `Component Software and Technologies'. Speakers came to Brown from Northeastern, IBM, University of Utah, GTECH, IBM, and Sun Microsystems. There were unusually lively discussions to accompany the usual wonderful food (especially the sinfully opulent desserts!).
Shriram kicked off the day with an overview of component technologies and of some of the challenges facing them, summarizing some work being done at Brown along the way. The remaining speakers addressed specific topics. Mirek Kula and Bob Rogers of GTECH described some industrial successes and difficulties. Karl Lieberherr of Northeastern refined Shriram's overview with a more detailed model of components emerging from his work. Mark Wegman of IBM offered thoughts on compiler optimization of component software. Jay Lepreau of Utah walked the audience through his experience building low-level software systems out of components. Finally, Jim Waldo gave an overview of component interactions on the Internet. No Brown event is complete without a graphics presence: Jon Laleuf offered a demo of the Exploratories project.
For more information, please see http://www.cs.brown.edu/industry/ipp/symposia/ipp28/home.html This IPP Symposium will be described in detail in the Spring, 2002 issue of conduit!.