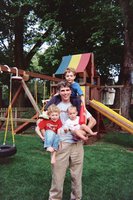 Carnegie Mellon Professor Randy Pausch, who gave his last lecture at the university this past Tuesday, was featured on ABC-TV's "Good Morning America," Friday, Sept. 21, 2007. Pausch, who is dying from pancreatic cancer, gave a moving lecture before a packed McConomy Auditorium last Tuesday. In his talk, "Really Achieving Your Childhood Dreams," Pausch talked about his lessons learned and gave advice to students on how to achieve their own personal goals.
His talk is available on the Web at the University Lecture Series Journey's page.
http://www.cmu.edu/news/archive/2007/September/sept21_pauschGMA.shtml
Pausch, a professor of computer science, human computer interaction and design, is a co-founder of Carnegie Mellon's Entertainment Technology Center and the creator of the Alice interactive computing program, which is being used by students worldwide.