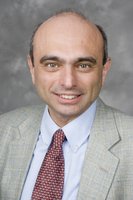 The IEEE Board of Directors, at its meeting on November 12, 2008, has elevated Roberto Tamassia to IEEE Fellow, effective January 1, 2009, "for contributions to graph drawing and computer-science education."
The grade of Fellow recognizes unusual distinction in the profession and is conferred upon a person with an extraordinary record of accomplishments in any of the IEEE fields of interest. The IEEE Fellows are an elite group from around the globe. The IEEE looks to the Fellows for guidance and leadership as the world of electrical and electronic technology continues to evolve.
"I feel honored to be included in the IEEE Fellow class of 2009," said Roberto, "and I would like to take this opportunity to thank all my former and current students, research collaborators and teaching assistants."
Roberto Tamassia is Professor and Chair of the Department of Computer Science and Director of the Center for Geometric Computing at Brown University. Over the years, his research interests have included analysis, design and implementation of algorithms, graph drawing, computational geometry, information security, cryptography and computer science education. He has published six textbooks and numerous research articles in the above areas. His textbook on "Data Structures and Algorithms in Java" (coauthored with Michael Goodrich) has had a major impact on the teaching of data structures worldwide, with translations in multiple languages. He is the recipient of a Technical Achievement Award from the IEEE Computer Society for pioneering the field of graph drawing and he is listed among the most highly cited computer science authors by Thomson Scientific, Institute for Scientific Information. His research has been funded by ARO, DARPA, NATO, NSF and several industrial sponsors. He received the Ph.D. degree in electrical and computer engineering from the University of Illinois at Urbana-Champaign in 1988 and the "Laurea" (M.S.) in Electrical Engineering from the University of Rome, "La Sapienza" in 1984.
Roberto joins our other four IEEE Fellows: Franco Preparata, John Savage, Eli Upfal and Andy van Dam.