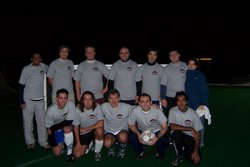 Shashank Ramaprasad, Matt Wronka, Dana Tenneson, Dan Acevedo Feliz, John Jannotti, Melih Bitim, Nesime Tatbul
bottow row l to r: Alex Zgolinski, Ivan Dotú, Pascal Van Hentenryck, Ugur Cetintemel, Yanif Ahmad
During the weekend of November 20/21, ByteSoccer successfully defended its middle-division intramural soccer championship.
Anchored by veterans Dan Acevedo, Yanif Ahmad, Melih Bitim and Ugur Cetintemel, ByteSoccer posted a 5-1 regular season record and claimed the #2 seed for the playoffs. Because of scheduling isisues, ByteSoccer had to play games on consecutive days. In addition, they had to do so without one of the teams key members, Ionut Aron, who was out of town for the weekend.
The weekend featured a pair of hotly contested games, each going down to the wire. First up for ByteSoccer were the #3 seed, the Dragons. The game was very physical and for a while the Dragons had the run of the play. But persistent and spirited defense from Shashank Ramaprasad, Dana Tenneson and Matt Wronka served to alleviate the pressure. ByteSoccer finally broke through late in the second half. After a beautiful run and display of ball-handling from Pascal Van Hentenryk, the Dragons gave up a penalty kick. ByteSoccer captain Alex Zgolinski converted and that made the difference in the game. Final score: ByteSoccer 1, Dragons 0.
In the final, ByteSoccer faced AS Buxton, the source of their lone defeat during the regular season. ByteSoccer were poised to avenge their title. As in the previous day's game, ByteSoccer found themselves in a tight situation, where the play was consistently back and forth. This time though, ByteSoccer found themselves more on the offensive than the defensive, as they had several chances to score in both the first and second halves. They didn't break through however, until the final minute of regulation. A scrum near the Buxton goalmouth saw ByteSoccer newcomer John Jannotti come up with the ball. A quick pass to Ivan settled the matter. ByteSoccer ran out the final minute, and we ended the weekend as champions. Final score: ByteSoccer 1, AS Buxton 0.
Overall it was a solid, if not dominating, performance by ByteSoccer in defense of their championship. With the group of players returning for next season, there is every hope we'll make it three in a row!!!!